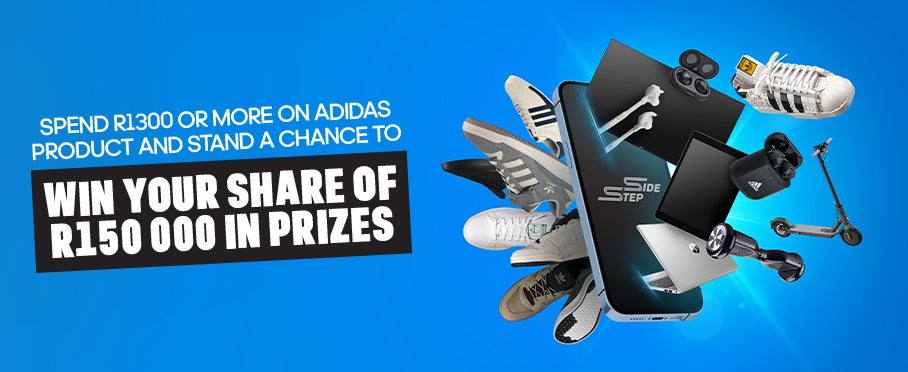 adidas x Side Step BUY2WIN Competition
Spend R1300 or more on any adidas product and you could be a winner. On checkout you'll be automatically entered into our daily prize draw. Terms and Conditions Apply. ...
Side Step and adidas BUY2WIN Competition Terms and Conditions

1. This competition runs from (09h00) Monday, 27 February 2023 to midday on Tuesday, 14 March 2023 ("closing date").

2. The promoters are: Side Step ("Side Step") Group of companies, whose registered office is, Aeroton Business Park, 30 O'Connor Place, Aeroton, Johannesburg, 2013. As well as adidas South Africa (Pty) Ltd ("adidas") whose registered office is 2nd Floor, Unit 2C, Black River Park, North Park, Fir Road, Observatory, 7925, Cape Town, South Africa.

3. This competition is open to all residents of the Republic of South Africa who are in possession of a valid identity document, except any person who is-

3.1. a director, member, partner, spouse, life partner, immediate family member, employee or agent of, or consultant to the promoter or any other person who directly or indirectly controls or is controlled by, the promoter; or

3.2. a director, member, partner, spouse, life partner, immediate family member, employee or agent of, or consultant to the supplier of goods or services in connection with the competition.

3.3. anyone who within a period of 183 days preceding this competition has won any competition organised, promoted, or conducted by Promoter, or who resides at the same address as such a winner, or who uses the same telephone number to enter this competition.

4. By entering this competition, you agree to comply and abide with these terms and conditions.

4.1.1. Entrants / Winners

4.2. To be eligible for the prize, winners must purchase any adidas items to the value of R1300 or more, markdown and sales items are eligible for this competition.

4.3. The purchase can only be made online.

4.4. The prize allocated each day is awarded to the first person who makes an adidas purchase to the value of R1300, from midnight to midnight on each day.
4.5. Should there be multiple purchases made to the value of R1300, the days prize will be allocated to the first purchase exceeding R1300 and having the highest spend of the day.

4.6. Should there be no qualifying purchases on a day during the competition period, the prize item allocated for that day, will be allocated to the next highest purchase value entered.
5. Winners will be notified within 24 hours of their purchase.
5.1. The daily allocated prizes will be delivered to the winner together with their online order where possible. Larger prize items might require additional delivery.
5.2. Delivery of items can take up to seven working days.

5.3. As a winner your name will be made public on the Side Steps Facebook, Instagram and Twitter pages unless otherwise directed.
6. By receiving the prize you will forfeit your opportunity to return the item for any refund and will only be eligible for a size/colour exchange.
7. Except in so far as is provided for in the Act 68 of 2008, the judges' decision is final, and no correspondence will be entered into.

8. adidas and Side Step reserves the right to vary, suspend, postpone or terminate the competition and any prizes, or any aspect thereof, for any reasons whatsoever and without notice. In such event, you hereby waive any rights or expectations which you may have against adidas and acknowledge that you will not have any recourse or claim of any nature against adidas.

9. The Brand, Promoter and its Affiliates will collect and use your personal data listed herein in order to enable your participation in this Competition and for related online activities. As an entrant, your personal data will be used to enter you in this Competition and for the Promoter's, its affiliates and subsidiaries' marketing purposes in the form of announcing you as a winner. We keep your personal data to fulfil the purposes for which it was collected or as required by applicable laws or regulations. We will not use your personal data for a different purpose without first obtaining your permission. We do not allow third parties to use your personal information.

10. All entrants indemnify the Promoter, its advertising agencies, advisers, suppliers, and nominated agents against any and all claims, damages or losses resulting from their participation in this Competition arising from negligent acts or omissions of the Promoter.

11. The Promoter assumes no responsibility for any error, omission, interruption, deletion, defect, delay in operation or transmission, communications line failure, theft or destruction or unauthorized access to, or alteration of entries. Promoter is not responsible for any problems or technical malfunction of any telephone network or telephone lines, computer online systems, servers, or providers, computer equipment, software, failure of any e-mail or entry to be received by Promoter on account of technical problems, human error or traffic congestion on the internet or at any web site, or any combination thereof, including any injury or damage to Entrant's or any other person's computer relating to or resulting from participation in this Competition or downloading any materials in this Competition.

12. You can choose to be excluded from direct marketing by notifying Side Step and/or adidas in writing or by registering a block on any registry which adidas is bound by law to recognise. adidas will not charge you a fee to update this request on its systems. adidas will give effect to any changes requested by you as soon as reasonably possible.

13. This promotion is not sponsored, endorsed, or administered by, or associated with FACEBOOK. You agree that you are submitting your entry to the owner of the FACEBOOK business page and not to FACEBOOK themselves.

14. These Terms and Conditions are also available by phoning (021) 422 6200 (standard Telkom rates apply) and at www.side-step.co.za