ellesse heritage | Side Step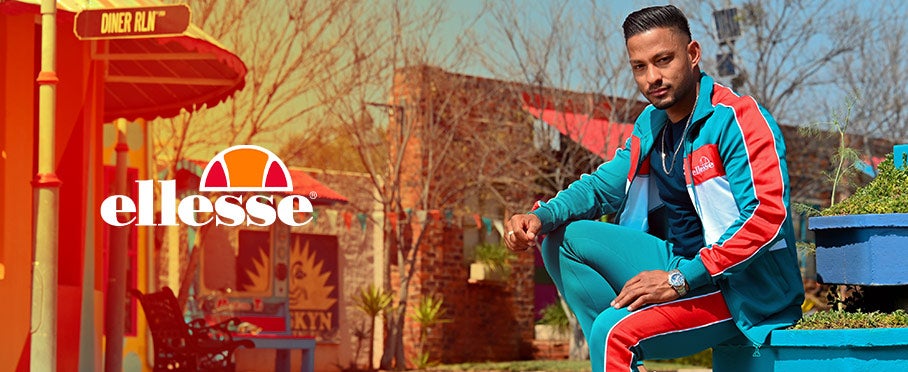 Ellesse Products On Side Step
Playful, sociable, relaxed and loving life - ellesse epitomises the perfect union of sportswear and lifestyle and active apparel made for those looking to express themselves. Tailored to fit contemporary clothing style since the 70's & 80's ellesse fans are trendsetters and not followers. Just in case you were wondering just how to pronounce ellesse, just say the initials of its legendary Italian tailor and originator Leonardo Servadio; L & S – it's that simple.
ellesse has become further entrenched on the fashion scene through various sports and fashion collaborations, even adopted by the football culture. The 90's saw ellesse as a bastion of style and fashion in the streets of Mzansi. Now, into the 20th century, ellesse is stronger than ever. This is due to the underlying character of the ellesse is simply unmatched for its fun fusion of art and style that is embodied by the collection's signature bold sneakers designed for men and women. ..
The ellesse shoes and clothing collection consists of stylish bold tracksuit sets, tracksuit pants, tracksuit jackets, T-shirts and accessories – fashion made forward. These pieces of ellesse clothing are wind resistant and designed to combat the elements in style. Tracksuits are best suited with fun, expressive t-shirts which are designed in a number of colours, cuts and sleeve length. This iconic athleisure clothing collection is finished off with stylish ellesse shoes, most notably the effortlessly stylish ellesse sneaker, all of which are available from Side Step stores. Shop this exclusive collection online and get it delivered effortlessly to your door.
Shop the latest
ellesse
heritage collections available at Side Step Online. Free delivery for orders over R500.00. Easily find your nearest Side Step store.