Havaianas Products On Side Step

The name Havaianas is Portuguese for Hawaiians. The first pair of Havaianas was born in 1962, based on the traditional Japanese sandal known as the Zori, whose soles are made of rice straw. The texture of Havaianas' rubber soles are like rice grains, one of the many details that make Havaianas unmistakable. Havaianas footwear is a mesh of contemporary Brazillian and Japanese styles. By 1964 practically every worker in Brazil wore a pair. To distribute, traveling salesmen in their vintage Volkswagen vans would take Havaianas throughout the countrysides and cities in Brazil and sell Havaianas directly from their vans. The vans were always greeted with excitement and Havaianas were distributed in simple plastic bags....
In the 70's, the hippie movement of love and peace helped to grow Havaianas even further as youngsters (and those more political in Brazil) joined the movements—wearing their Havaianas of course. As early on as the 70's other brands were trying to copy Havaianas. To reinforce the premium benefits of our flip flops, Havaianas launched the slogan "Protect yourself from fony Havaianas – the real ones. They don't lose their shape, don't smell and the straps don't come loose."
1998 saw the launch of one of the best-selling Havaianas models with the most notable style: the "Brazil". Havaianas launched this style with the small Brazilian flag on the strip, which soon became an object of desire on an international level. Havaianas are recognised by their bold, vibrant colours evocative of Brazilian heritage. A celebration of cultures and styles birthed the simplistic, yet stylish Havaianas flip flop. These stylish flip flops are designed in a selection of bright and vibrant colour combinations and patterns with true Brazilian flair.
The Brazilian influence is seen on all pairs of Havaianas flip flops, flaunting the Brazilian national flag. It is this combination of vibrant colours, bold celebratory styles and an innovative comfy feel of each pair of flip flops that has earned Havaianas the love of all. From rock stars to moms, and from beachgoers to surfers. Their versatility and timeless style has earned the vibrant Havaianas flip flops the deserved title of the "best rubber sandal in the world". Shop your pair of Havaianas 24/7 at Side Step to join the movement.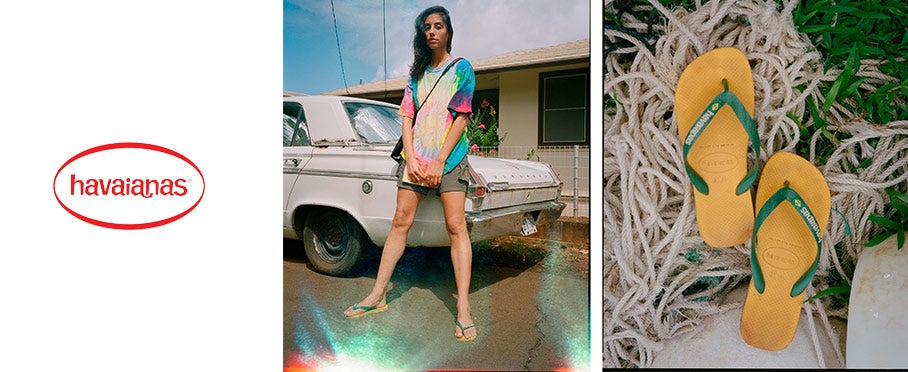 Shop the latest havaianas collections available at Side Step Online. Free delivery for orders over R500.00. Easily find your nearest Side Step store.