VARSITY VIBE STUDENT DISCOUNT
#NEVERPAYFULLPRICE
SA's 1st Student Discount App! We help SA students enjoy the perks of student life. Make R40 for every friend/person you sign up using your unique referral code. Save now at our dedicated Side Step Varsity Vibe approved branches.
Student Discount, SA's 1st Student Discount App, offers instant access to awesome (and exclusive) student deals for members only. Anyone can download the app and see the deals…but only a student (ANY student) can become a member and get the deals. We help SA students enjoy the perks of student life!
HOW VARSITY VIBE WORKS.
Varsity Vibe launches SA's 1st student discount app and marks the beginning of major savings for cash strapped students all over South Africa. This was made possible by our relentless efforts at getting students more bang for their buck. Our app is designed exclusively to get students the deals and discounts they deserve and completely replaces the 2015 Varsity Vibe card. If members are looking to benefit from the discounts when purchasing things from their favourite brands, they no longer need to present cards, but simply show their completed "my profile" screen at the till points of participating partner stores. Other nifty features include geographically pinpointing all the deals closest to you, which means that no matter where you are, you never miss out on an opportunity to save a few bucks. The app is available for download on the iPhone App Store as well as Google play stores and consists of a simple 3 step sign up process that will have you saving cash in no time. So join the vibe and enjoy the perks of student life. Download the app today: www.varsityvibe.co.za/app
WHAT DO I NEED TO BECOME A VARSITY VIBE MEMBER?
You need to: be a registered student in South Africa; own an Apple or Android compatible phone/device; and be able to pay the R200 membership fee (remember that's a once off fee for the 12 month membership which equates to less then R17/month).
VARISTY VIBE GUIDE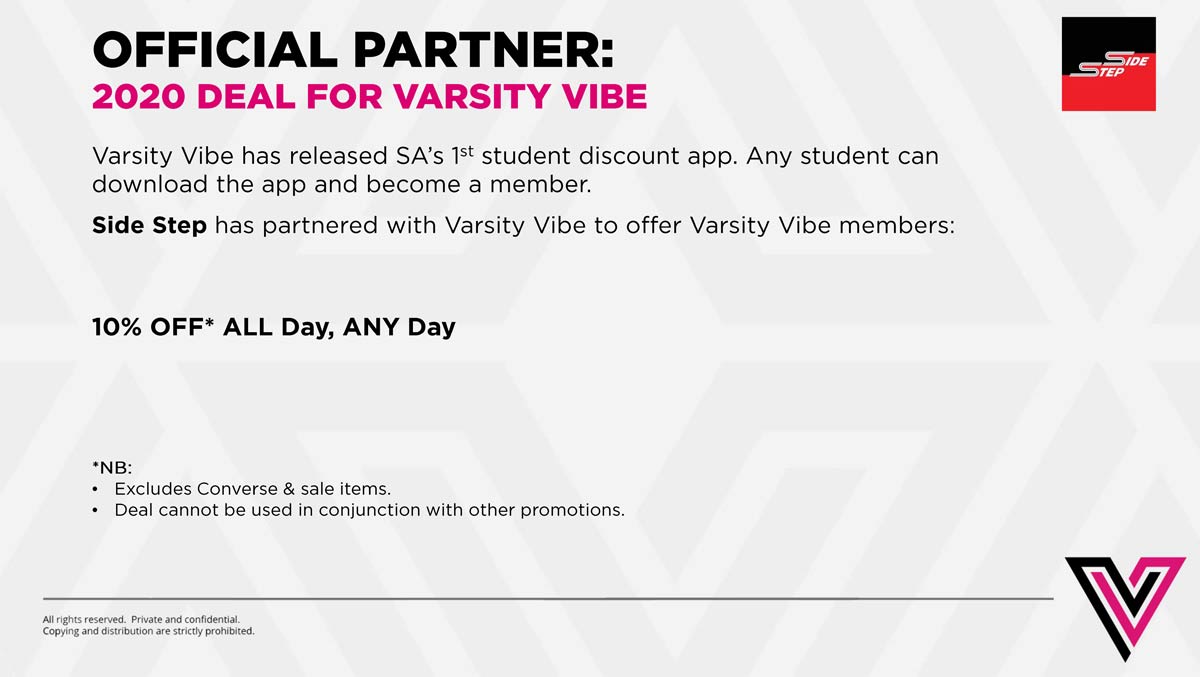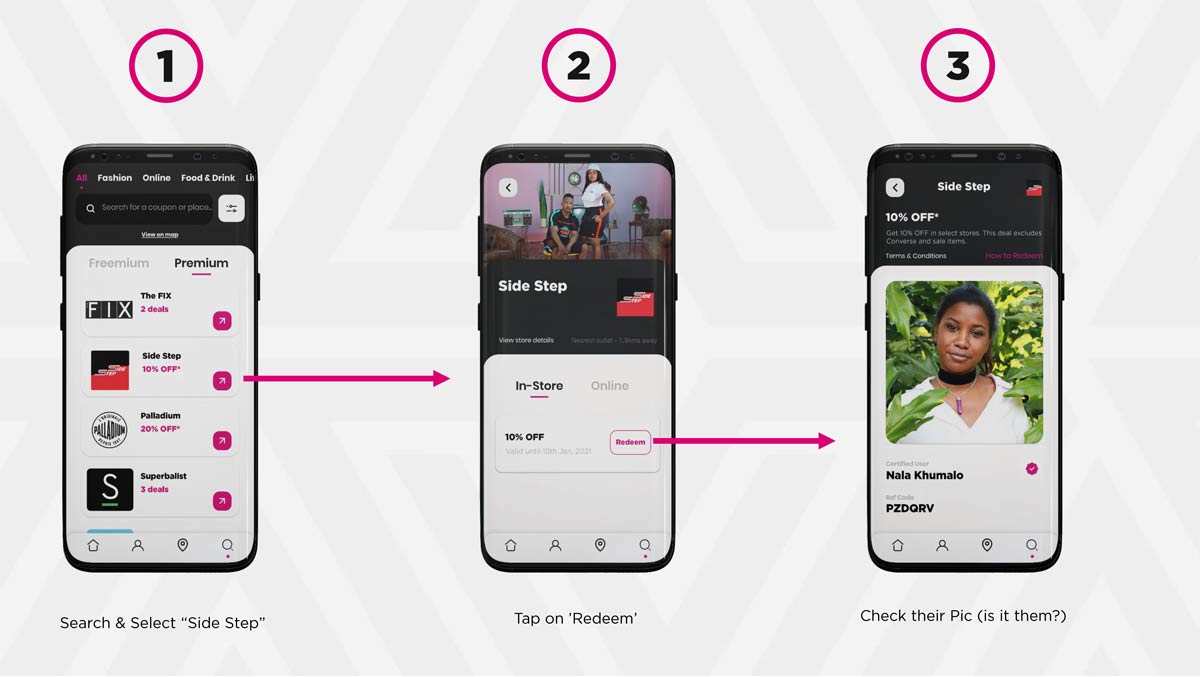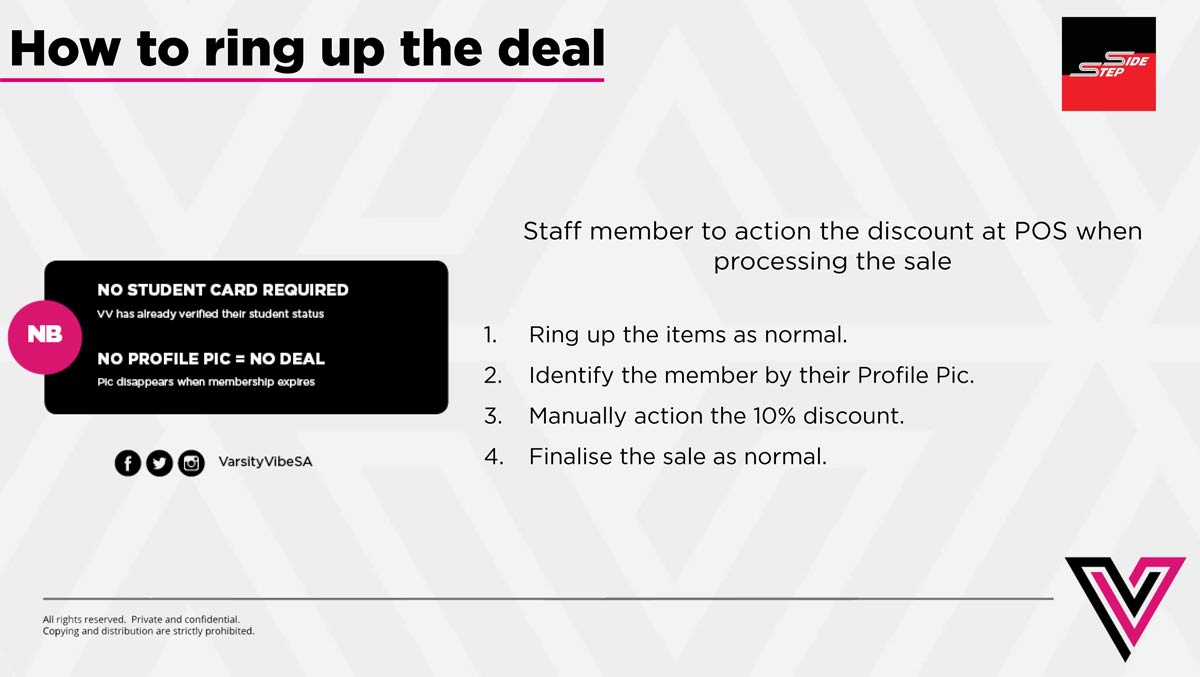 PARTNER APP GUIDE
| | | | |
| --- | --- | --- | --- |
| 608 | Amamzintoti | Shop F34, The Galleria Mall, Corner Moss Kolnick and Arbour Roads, Umbogintwini, Amanzimtoti, KZN, 4126 | 010 006 3085 |
| 610 | Westgate | Shop L167, Southgate Shopping Centre, Columbine Road, Mondeor, 1742 | 010 006 3015 |
| 612 | Southgate | Shop U267, Southgate Mall, Corner Columbine Avenue and Rifel Range Road, Mondeor, Johannesburg South, 2091 | 010 006 3023 |
| 615 | The Glen | Shops M21 and 21A, The Glen Shopping, Corner Letaba and Orphen Road, Eastcliffe, Oakdene, Gauteng, 2001 | 010 006 3004 |
| 621 | Golden Acres | Shop C71B, Golden Acre Shopping Centre, 9 Adderley Street, Cape Town, Western Cape, 8001 | 010 006 3063 |
| 639 | Greenstone | Shop U011, Greenstone Shopping Centre, Corner Modderfontein Road and Van Riebeeck Avenue, Edenvale, 1609 | 010 006 3005 |
| 641 | Cradlestone | Shop U99, Cradlestone Mall, Corner Hendrick Potgieter and Furrow Roads, Muldersdrift, Krugersdorp, 1739 | 010 006 3013 |
| 645 | Parow | Shop G19, Parow Centre, Corner Delay Ray and Voortrekker Roads, Parow, 7530 | 010 006 3082 |
| 652 | Maponya Mall | Shop 52, Maponya Mall, 2127 Chris Hani Road, Klipspruit Ext 5, Soweto, 1809 | 010 006 3039 |
| 660 | Hatfield | Shop 37 and 38, Hatfield Plaza, 1122 Burnett Street, Hatfield, Pretoria, 0028 | 010 006 3034 |
| 662 | Baywest Mall | Shop UG56, Baywest Mall, Walker Drive, Port Elizabeth, 6034 | 010 006 3070 |
| 670 | Mall of the South | Shop F050, Mall of the South, Corner Klipriver Drive and Swartkoppies Road, Aspen Hills, 2190 | 010 006 3042 |
| 675 | Mall of Africa | Shop 1104, Mall of Africa, Corner Lone Creek and Magwa Crescent, Waterfall City, Midrand, 1682 | 010 006 3043 |
| 685 | Central Park | Shop 140-150, Central Park Shopping Centre, Hanger Street, Bloemfontien, 9301 | 010 006 3072 |
| 691 | Welkom | Shop 40, Tzaneng Mall, Danie Joubert Street, Tzaneen, 1883 | 010 006 3099 |
| 692 | Ballito Junction | Shop 92, Goldfields Mall, Corner Stateway and Buiten Streets, Welkom, 9459 | 010 006 3075 |
| 694 | Bloem Plaza | Shop 11-13, Bloemfontein Plaza, Corner Charlotte Maxeke and East Burger Streets, Bloemfontein, 9300 | 010 006 3071 |
| 697 | Vaal Mall | Shop 697, Vaal Mall, Corner Faraday and Rossini Bloulevards, Vanderbijlpark, 1911 | 010 006 3056 |
| 6010 | Fourways | Shop NG 38, Fourways Mall, Corner Ruby Close and Witkoppen, Fourways, Sandton, 2068 | 010 006 3045 |
| 6020 | Green Acres | Shop 9, Greenacres Shopping Centre, 1 Ring Road, Greenacres, Port Elizabeth, 6045 | 010 006 3073 |
| 6035 | Eikestad | Shop E014, Eikestad Mall, Adringa Walk, 43 Adringa Street, Stellenbosch, Western Cape, 7600 | 010 006 3272 |